Labor Veritas organizes specialist events and platforms for the exchange of knowledge and experience:
Forum Labor Veritas

Date: Friday October 30th 2020 (*)
Place of execution: Anlagenbau AG, Industrie Neuhof 30, 3422 Kirchberg
canceled due to pandemic; next implementation on June 04, 2021 Planned October 22, 2021 – at Anlagenbau AG in Kirchberg
As a replacement for the forum that was canceled last year, all forum members have been given unrestricted access to Wiki Veritas. In addition, René Eisenring will give an insight into Stretto 3 in a one to two hour video meeting on April 20, 2021 and will be available to answer any questions. Stretto 3 is the revision package of Swiss food law that came into force on July 1, 2020 and the majority of which will expire on June 30, 2021.
The original plan was to take up Stretto 3 at the forum on October 30, 2020. The now planned video meeting could help forum members who have not yet dealt with the revision package to get started with the topic.
Hygiene conference

Date: Monday, September 21, 2020, all day (*)
Place of execution: Belvoirpark Hotel Management School, Seestrasse 125, 8002 Zurich
canceled due to pandemic; next implementation on May 17, 2021 Scheduled for September 27, 2021
Seminar for the BGLG * safety officers
* Beverage company group solution for occupational health and safety
Date: Friday, December 11, 2020, all day
Place of execution: Brauerei Schützengarten AG, St. Jakob-Strasse 37, 9000 St. Gallen
Main topic: hazard identification. BGLG members can find out more about the program via Wiki Veritas .
Since the participants are safety officers and safety specialists with experience in health protection issues, the event will be held, at least for the time being, despite the current pandemic situation. In any case, compliance with a protection concept is enforced; the obligation to wear a mask will be part of it. Depending on the further development and the official orders, we reserve the right to cancel at short notice.
Labor Veritas employees are involved in the organization of the LMT.
LMT – Food Day

Organizers: Swiss Association for Quality and Management Systems (SQS), bio.inspecta AG
Date: Thursday, April 2, 2020, all day (*)
Conference location: Hotel Schweizerhof, Lucerne
Topics: see program / invitation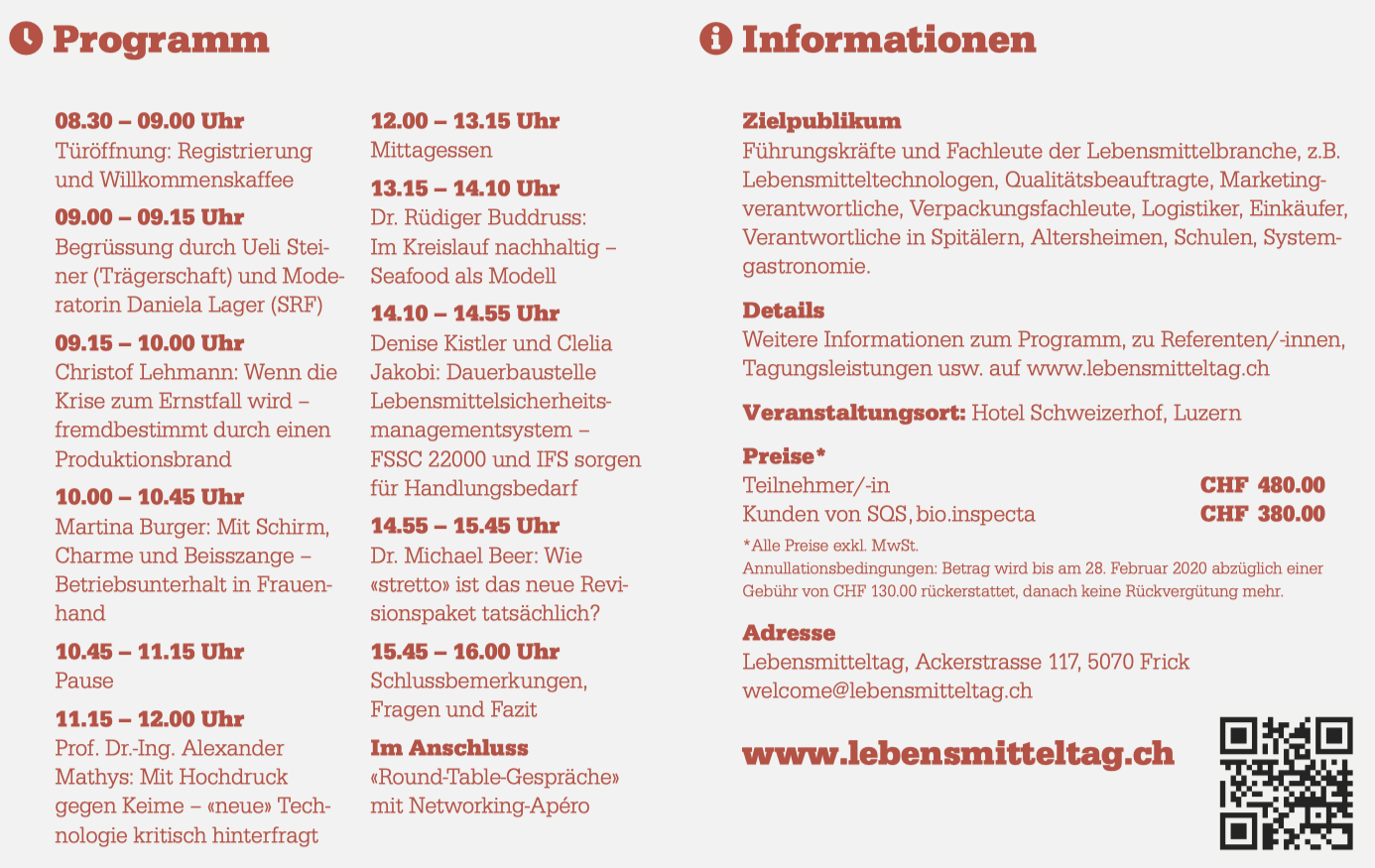 (*) sold out conference, but canceled due to a pandemic; next event planned for April 7th, 2022
This page was automatically translated with google translate.